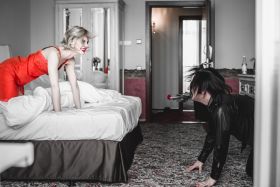 04.07.2017.
In light of these happy news, the band has released a new video for the song starring actors Artūrs Skrastiņš and Ieva Segliņa from The Death of Bunny Munro. The video has been filmed and edited by the director Artis Dzērve. Keep an ear out for "Bunny Munro Waltz" on the new album Catch Her Groove, as well as in the play. Mārcis says: "I would like to say a big thank you to the Daile Theatre, the actors and Džilindžers for the honour to work on this play. I really appreciate it. Without this play there would be no song, nor this terrific short film, a special thanks for which goes to the theatre, actors and Artis Dzērve."
Mārcis sets the scene for the song: "This is my first waltz. When I wrote this song, I was thinking of two worlds: the first one has an overwhelming amount of sex, drugs and rock & roll. It's clear that it will all come to an abrupt end, and one will be flying, hopefully, towards the sky, because this kind of lifestyle can only have one outcome. It's the highest concentration of egoism when nothing is an obstacle, because there are pleasures one cannot miss out on. Meanwhile, the other side is hysterically screaming: "Hey! I'm right here. I love you! Everything will be alright! I miss you! Love you … You tricked me again, Bunny!" These are the two worlds that are not meant to align."
The album Catch Her Groove will soon be released in Germany, Austria and Switzerland in cooperation with Gordeon Music and Rough Trade.
The album is available on:
iTUNES: https://goo.gl/vxlfEj
Spotify: https://goo.gl/gcIkj0
CD: https://goo.gl/L6hr4F