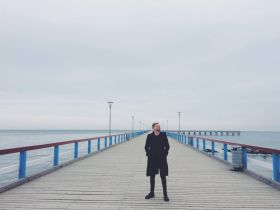 17.03.2017.
Today, in order to introduce the audiences to the upcoming album, the band is releasing the video of their new song that was filmed at the most beautiful coastal locations of the Baltic Sea: Curonian Spit and Palanga. The creators of the video are the leader of the band Mārcis Judzis and Ritvars Bluka, who participated both in filming and editing. The video features an almost antique Citroën CX, which required some repairs on the road. The roadtrip and filming took two days.
This is definitely one of the most romantic songs on the album, which will be played live on 31 March at the new Daile Theatre production of The Death of Bunny Munro based on the book of the same name by the Australian musician Nick Cave and staged by the director Dž. Dž. Džilindžers. Ryga will also participate in the theatre play and perform several songs from the upcoming album. The main role is played by Artūrs Skrastiņš, and stage design is by Kristians Brekte.
Mārcis: "The production team consists of many fantastic artists. I can't wait to play on the stage of the Daile Theatre again!"
This is not the first time Mārcis and Ryga are collaborating with the theatre; in 2014, the band participated in Banishment staged at the Daile Theatre by the famous Lithuanian director Oskaras Koršunovas, in which the band performed its own music.
To introduce the audiences to their new song, this morning the band is making appearances on LTV's Rīta Panorāma and Radio SWH.
The new song is available on all music streaming and downloading portals around the world.
FB: https://www.facebook.com/rygaband
Spotify: https://goo.gl/ZYlBOM
iTunes: https://goo.gl/4DPK8W