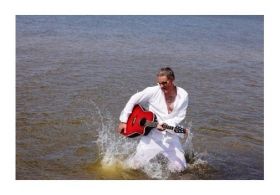 07.01.2013.
At the end of the last year, the legendary Latvian rock musician and Līvi band leader, Ainars Virga, published his new song ''Es nevaru bez tevis dzīvot" (I can't live without you) recorded featuring Marcis Jundzis the drummer of Dzelzs Vilks. Starting the year off right, Ainars gives a new song "Sāc visu no jauna" (Start Everything Anew). This is one of the few songs that Ainars has written both the music and lyrics, and the story behind the song is from a personal experience; a relationship that came to an end. However, the end is also a start for something new. You can follow the lyrics of the song on the special video version that is published on MicRec official Youtube channel: http://youtu.be/vLOY7dXF9G8
The song was recorded with the producer Artūrs Palkevičs at the Sound Devision studios. The drum parts were played by Virga Hard Orchestra drummer Edgars Šmiukis, guitar played by Andrejs Meļņikovs. Extra vocals were sung by an admirer of Ainars music and vocals Jānis Buķelis.
You can download the song at Doremi.lv.
Ainars Virga: "While writing this song, I listened to a lot of Dave Matthews Band and the way he writes his music and tells his story. Now, this is my story."
Photo by: Jānis Deinats