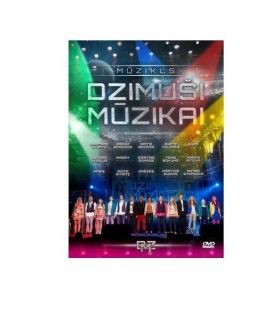 04.01.2013.
The six full and packed musical shows at the Riga Congress House (Rīgas Kongresu nams) and the Latvian National Theater ( Latvijas Nacionālais teātris) directed by Andris Bulis and choreography by Liga Liberte was a hit among the viewers and was first of its kind. As of now, there are no shows planned, however; due to a high demand from the musician supporters and fans, MicRec Publishing along with Microphone records made it happen, so that the fans have something to come back to, and now everyone can see the musical in a video version. The DVD version will have only the musical numbers of the show and will make the viewer feel like they are at a fun party.
In addition, the DVD has photo galleries from the dress rehearsals, backstage and the musical album presentation. The DVD has official videos of the memebers of the musical, such as Antra Stafecka ''Maldugunis dzēšot'' (Put Out the Wrong Fire), Oskars Deiglis ''Tu Mani Iedvesmo''(You Inspire Me) , Kašers artistic and provocative video ''Mazliet Bail'' (A Little Scared) and many other funny videos of the cast.
DVD sponsor SMScredit.lv
Friends: TVNET, Sīrups, Capital FM, Just bar and of course LNT and Izklaides Kanāls 2.
Technical information about the show and DVD:
Filmed at: Rīgas Kongresu nams 17.10.2012.
Story plot and ideas: Andrejs Ēķis and Līvas Pauderes sižets
Director: Andris Buļis.
Choreography: Līga Liberte (Body & Soul)
Scenography: Ģirts Mucenieks
Video graphics: Kristiāna Laķa-Lazdāna
Costume design: Kašers and the creative union KASHOLELA
Producer / arranger of the music: Artūrs Palkevičs
Executive producer: Vivita Leismane
Technical Producer: Zane Vītola
Director of Musical: Guntars Račs
Graphic design: Guntars Ošenieks (Gosh design)
Photos: Oskars Ludvigs
Video editing: Jānis Jēkabsons (Tumba TV)
Video / Cameramen: Mārtiņš Jansons, Sergejs Skripa, Kārlis Briedis, Jānis Jēkabsons
Director of video and editing: Jānis Jēkabsons
DVD master: Andris Zemītis
Light directors: Pāvels Armanis. Mūziklu apskaņoja: Gatis Baļutis