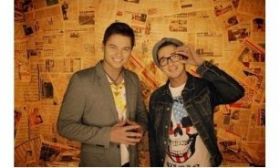 05.12.2012.
After a break for a year ''Musiqq'' gives everyone a glimpse of their new song and video.
Video premiere for the song ''Dari kā es" (Do it like I do) was held last week at ''Forum Cinemas" Dziesmas " thanks to the Coyote Fly support.
Composer of the band, Marat talks about the message of the song, '' we hope that these four minutes will help someone to make their gloomy day a bit lighter. And wish for everyone to be in peace with who they are and love themselves. "
Video was produced by "Imagine Pictures".
Director, Andžejs Gavrišs and producer Jūlija Fricsone
Songs are available on Mp3 at Doremi.lv
VIDEO:
http://www.youtube.com/watch?v=0QIOOMBmSSw