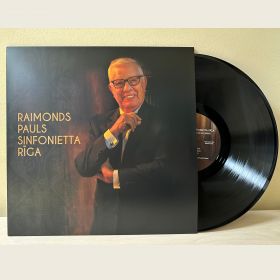 07.07.2023.
Raimonds Pauls and 'Sinfonietta Rīga' album 'Songs Without Words' is available in compact disc (CD) and vinyl record formats.
It includes ten arrangements created by the British composer Callum Au for Maestro's compositions, performed by Raimonds Pauls together with double bassist Toms Poišs, drummer Māris Briežkalns, and the chamber orchestra 'Sinfonietta Rīga' under the direction of conductor Normunds Šnē.
The album is produced by Māris Briežkalns, and recorded at Latvijas Radio 1st Studio, with sound engineering by Gustavs Ērenpreiss and assistance from Ivo Tauriņš, Reinis Bagātais, and Krišjānis Geidāns.
Final mixing by Louis Dowdeswell, and mastering by Mark Ashfield at 'PresentDayProduction.' Roberts Blumbergs create the album's design.
Order the album: https://www.micrec.lv/lv/ieraksts/raimonds-pauls-sinfonietta-riga-dziesmas-bez-vardiem-vinyl