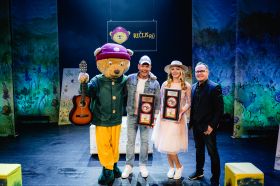 24.04.2023.
Beloved by Latvian childrens and parents, teddy bear Ričijs Rū and his creators Lauris Reiniks and Ruta Reinika-Preisa receives The Platinum Record award for 10thousands sold copies of their album "Ričijs Rū rīko koncertu"! This is a rare sucess in Latvian music business lately.
Project authors celebrates and announces the new book and music album "Ričijs Rū rīko koncertu 2" release in this summer.
At the end of previous summer, the Reiniks family and MicRec Publishing introduced the small listeners and their parents in Latvia with a new protagonist – little bear Ričijs Rū and his friends in the forest. The audience listening to the little bear Ričijs Rū grew so fast that the protagonists from the book transformed into a concert show and the shows are sold completely and continue travelling around Latvia. The book has been in the list of bestsellers, and Riga Central Library has named it the best children's book of 2021.