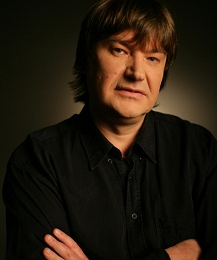 description
Born in April 7, 1959, in Liepaja.
Studied in Emila Melngaiļa Secondary school of music and in Latvia State Conservatorium.
Established and participated in ensamble "Zodiaks". Their first album "Diisco Alliance" in 1980 became an instant hit not only in Latvia, but the whole Soviet Union, breaking records by selling 20 million copies. In 1996 the band comes together for the last time, releasing its album "Dedication".
While working with ensamble, Jānis Lūsēns also announces himself in the genre of theatrical music by composing music for Jevgeņijs Jevtušenko poem`s "Mother and the Neutron bomb" staging in Liepajas Theatre. Over the years theatrical music has gained a significant and integral role in the creative work of Jānis Lūsēns. The rock-opera "Kaupēns, my dear" gains great interest and love from the public. In 2008 the rock-opera is included in Latvia`s Canon of Culture as one of the greatest and notable works of art, reflecting the characteristics of latvian values.
Both "The Birds Opera"- with more than 95 thousand viewers in nine years- and "Sfinksa"- with approximately 90 thousand viewers in eight years- became as record-holder performances, but in 2001 and 2002 there are five musical performances, composed by Jānis Lūsēns, running simultaneously in Latvia`s theaters.
Musical stagings and operas of Jānis Lūsēns has viewed almost 450 thousand people.
Jānis Lūsēns has worked also in the genre of academic music, writting cantatas and symphonies for choirs. Together with poet Māra Zālīte more than 10 musically-theatred works has been created.
In the 90ties, a serious part of Jānis Lūsēns creative work was dedicated to composing vocally- symphonic works (cantata "LIIV", "Magnificat", choir symphony "Deep Breathing"). J. Lūsēn`s songs have been performed in Latvian Song Festival and Schoolchildren Song Festival for several times. In 1998, Liepaja held composer`s author-concert "Like a gently stinging rosebush".
Composer has received Latvia`s Theatre Annual Award as best composer in 1996 for the musical score for performance of "Santa Krusa", in 1999- for the musical score for rock-opera "Kaupēns, my dear", AKKA/LAA Copyrights Infinity Award in 2003, and Latvia`s Great Music Award ,the highest music award in Latvia- for the musical scores for performances in 2000, as well as the contribution in genre of theatrical music.
Since 1987 J. Lūsēns has been a member of the Composer`s Union of Latvia.
Three Star order`s officer (2009).
songs
| | |
| --- | --- |
| Zodiac | |
| Pacific | |
| Provincial disco | |
| Polo | |
| Mirage | |
| Rock on the Ice | |
| Alliance | |
| A Mysterious Galaxy | |
| Laser Illuminations | |
| A silver dream | |
| Photofinish | |
| The sky's back | |
| The saturns light | |
| Flight over El Dorado | |
| Dedication | |
| In Memoriam | |
| Kurzemē | |
| Moricsala | |
| Palace of Rundale | |
| Open air museum | |
| Game | |
| The Old Riga houses | |
| Pastorāle | |
| Blue Mountain | |
| Šai svētā naktī | |
| Vārds | |
| Ticība | |
| Jaunās egles | |
| Bērna lūgšana | |
| Ziemassvētkos | |