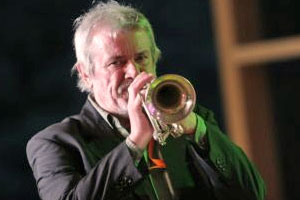 description
Gunārs Rozenbergs born in 1947 and died on May 10th, 2009
Gifted trumpeter and arrager, also composer and conductor. He has felt both popularity, fame, joy of his work and undervaluation.
He had devoted 40 years to music,but there were colourful school years before that.
He started to play violin at the first years in 6th secondary school, followed by percussions in The Emils Darzins music school and Jazeps Medins music school. By self-taught he started to play trumpet. After a while Gunārs played together with legedary drummer Einārs Raibais.
At that moment talanted trumpetist–improviser started to develop.
He served army and joined soldier ensamble "Zvaigznīte"(1965) although he had not finished The Jazeps Medins Music school yet. Famous jazz quartet formed there: G.Rozenbergs – trumpet, U.Stabulnieks – piano, V.Eglītis – contrabass, D.Beķeris – percussions. Quartet was a surprise un became an award winner in Jazz festival in Tallinn. Received award from Jazz association in Poland. They won in "Liepājas Dzintars" the same year.
Rozenbergs started to work in Orchestra of Latvian Radio and TV when he served in army and worked there for 25 years. Including 10 years as conductor. He improved his composer and arranger skills there. It is confirmed by international recognition for arranged songs (solist A.Kukule) in international hitmusic festival in Dresden in 1977.
As arranger he cooperated with R.Pauls and created many albums and concert programs. He wrote music also for performances of Toy Theatre of Latvia, child ensamble "Dzeguzīte" and songs for the best soloists and intrumental compositions.
Also he was already internationaly acknowledged as arranger, conductor and The First Jazz Trumpet in Latvia, Gunars started to study in trumpet section of Conservatorium and successfully finished it.
Successful cooperation with saxophonist Raubiško and rhytm duet Bannihs-Boldirevs led to jazz quartet "2R+2B"., There was also jazz quintet in cooperation with R.Raubiško, I.Galenieks-contrabass, M.Kalniņš – piano, M.Briežkalns – percussions. They performed at prestigious club of Ronnie Scot's in London.
In the 90's his main activities were aranged Christmas songs and songs from repertoire of Frank Sinatra for publishers both in Canada and Switzerland.
G.Rozenbergs participated in recording album of band "Kuba" by playing trumpet in 2002. He has three prize-winer compositions in competition for army orchestra.
Gunārs revived as composer, when Mirage Jazz Orchestra was established in 2004. Due to activity of orchestra Gunārs had inspiration for new compositions and arranged songs.
"My favourite songs" - album containing original music of G.Rozenbergs was released at the end of 2008. There were summarized compositions and arranged songs from the recent years.
Trumpetist, arranger and composer Gunārs Rozenbergs has built eternal monument in music for himself.
We can bend down our heads in thankfullness in front of this talanted person.
songs
| | |
| --- | --- |
| Krāsainās Lāses | |
| Disko Roze | |
| Sniega Deja | |
| Tallin - 76 | |
| Slaloms | |
| Greizais kvadrāts | |
| Stari skan | |
| Vējam līdzi | |