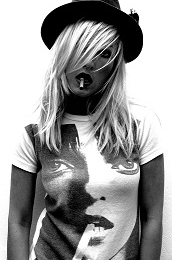 description
Music was always her first love but back then she didn't know it was possible to make a living out of being a singer and DJ.
No doubt she is the most wanted and most popular artist in Latvia of the new generation following David Guetta and Bob Sinclair's steps. At the local scene there are no any other like she. Sexy, smart and professional at the same time!
Ella's career started when she was 14 when she got to the final of international young performers competition " Fizz Superstar" where she was the youngest entrant to perform.
The first one, who noticed that she was someone to watch out for, was the legendary UK producer and manager Mel Bush (Vanessa Mae, David Essex, Wild and many more). He offered her a career in the UK and that was the time when he was working on his new project lately known as Bond. But as Ella was just 14 years old and a young lady, she easily reject his offer telling his professional industry - wait a minute, I'll make it on my own.
And now it is happening. Step by step she goes her own way to reach success. When she was only 16 she has wrote her first song, recorded it and sent it to the record company. She's got signed to Microphone Records. In 2006 the debut album "To reach your dream" was released. She wrote most of the songs herself. At the same time she participated in local "Fame academy" and again, got to the super final.
In 2007 she host a special programme on the most popular radio in Latvia - "Radio SWH". At the same time she started to do her DJ sets at the most prestigious Riga dance club " Essential".
In 2008 the new album " Welcome To The Club" was released.
In 2009 DJ Ella won The Best Dance Music Album in Latvian Music Awards.
In 2009 she has been nominated for MTV The Best Baltic Act and she released a single Shine Like A Superstar on legendary UK Positiva Records.
In 2010 single Shine Like A Superstar has been released in USA on Next Plateauent Entertainment.
Now Ella is searching for a producer who can help her to make a new album.
songs
| | |
| --- | --- |
| Sing With Me | |
| Dance With Me (Lai notiek kas notikdams) | |
| Vēlreiz | |