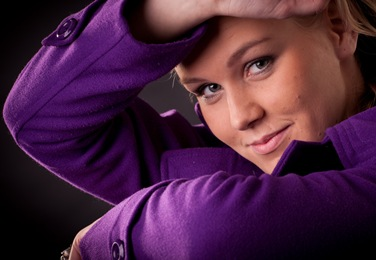 description
Born on the 19th of August in 1993, making her first noise a melodic shout, which the author herself does not recall, but this fact has been mentioned, to her all of her life.
First music skills were developed, when her mom would go to her music ensemble practice "Kamene" and took little Kristine with her, where Kristine would hum along the melodies of the singing mom's.
In 1999 – she was a participant of the well-known ''Calis'' (Little Chick) contest, where she refused to sing because of the unknown place that scared her, but she was confirmed to the contest and received a diploma ''little chick – madam''.
After some school activities, in 2005 Kristīne was a contestant at the 4th Latvian Radio Performer's song contest called ''New Stars'', that was dedicated to a recognized composers work and in 2005 it was Zigmārs Liepiņš. Another achievement in 2005 was participation in a youth festival ''UKM'' in Norway.
In 2006 she participated in popular music master classes lead by Jolanta Gulbe in the city of Valmiera. The same year she participated in a competition called ''Song for My Generation'', where she received 3rd place with a song ''Wild Dances''.
In 2007 she was a finalist at Olgas disco competition with a Latvian song ''Come Dance''. Also, the same year she got a 2nd place at an international song festival ''EUROJURMALA 2007''. During the fall of 2007 she was a part of a music master classes in the ''Together'' project. 2007 was especially successful for Kristine, she was asked by Henry Vaivads Buks to record two songs for a charity that you can hear at www.zvaigznes.lv
In 2008 she participated in a show ''Latvian Golden Talents'', where she received all three stars from the judges.
During the summer of 2009, Kristīne was in France, where she received a certificate on communication, culture and music activities. She had begun a great collaboration with DJ Uga and her two first singles were created ''Dimanta zieds'' (A Diamond Blossom) and ''Dejosim'' (Let's Dance).
During the summer of 2010 together with Ilze Pukinska and Tālivaldis Lasmanis she took part in a psychological drama , short film ''Parādi man skaņu'' (Show Me Sound). In the fall, she participated in a family oriented singing show, together with Krūmiņu family, ''Dziedošās ģimenes'' (Singing Families).
2012, Kristine took part in one of the most watched reality TV Shows ''Okartes Skatuve 2'' (Ocard Stage 2), that lead her to a part in a musical "Dzimuši Mūzikai'' (Born for Music).