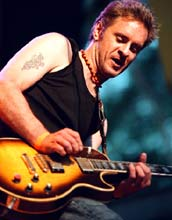 description
Ainars Virga – composer, guitarist and singer, legend of a Latvian rock music. Born on the April 6th, 1964.
Approved as the best Latvian solo guitarist, representative of rock music, talanted composer, distinguished music producer and arranger.
Author of many rock hits, that became very popular.
Author of music for performance "Akmeņi" by Liepāja theatre and "Liepājas stāsts"- musical about rock musicians, in 2007.
Since he was 5 years old learned to play violin for 10 years, graduated music school. Graduated from Liepāja Music college, choir conductor section.
Participated in child rock ensemble "Vabolītes" since he was 12.
Participated in a band "Korpuss" by Ēriks Ķiģelis for three years until he was 18years old, after that in cover version band "Neptūns".
For three years participated in band "Liepājas kvartets" together with Rodrigo Fomins..
Became a lead participant in the most famous rock band "Līvi" in 1985, when he was 21 year old.
One of the most succesful moments for band was that they recorded the first unplugged concert in former Soviet Union. "Līvi" played their hits only by using acoustic guitars in Latvian Radio recording studio No 1, and by morning's dawn concert record was already in sale. This album "Spoku koks" was sold out in a moment and it happened for the first time in world's rock history and have not been repeated since then.
"Līvi" also cooperated with Liepāja Symphony Orchestra and performed breathtaking shows also on the stage of Latvian National Opera (2004-2006).
Together with band, he participated in rock opera "Kaupēn, mans mīļais" by Jānis Lūsēns and Māra Zālīte,that was the most successful performance in the latest decade. "Līvi" participated in more than 100 performances and recorded an album in 1999.
Participant of a band "Liepājas brāļi" since 1987.
Since 1990-1991 worked in a band "Rīga" where the most successful Latvian rock musicians were gathered.
Worked together with band "Marhils un draugi" as guest artist
Participated in musical "Klondaika" by Uldis Marhilēvičs and helped to record an album of the same title.
Author of musical "Liepājas stāsts" (libreto by Gutars Račs) in 2007, where he also played a role. Audio version was recorded and Virga played guitar, bass and piano parts.
Two versions of songs by Arturs Duboks "Ja tu mīli" and «Рига — Лондон» were recorded in 2007, and both of them became radio and television hits.
Cooperated with band "Oxy Roxx" in Moscow, 2008.
At the moment he writes songs for the new Latvian pop musicians and works on his solo album.
Moscow Drama Theatre «АпАРТе» started discussion about staging musical "Liepājas stāsts" by Ainārs Virga in 2009.
songs
| | |
| --- | --- |
| Kādā Brīnišķā dienā | |
| Ar tevi kopā | |
| Eglīte | |
| Ejam tālāk | |
| Ej uz visām debess pusēm | |
| Es karājos tavā bizē | |
| Filma beigusies | |
| Gada labākās meitenes | |
| Krāsainā dziesma | |
| Lai notiek viss | |
| Meitene | |
| NLO | |
| Ozolam | |
| Pārpalikums | |
| Pēdējais vilciens | |
| Prognoze | |
| Pūlī | |
| Var jau būt | |
| Vecais, mums ir laimējies | |
| Viva | |
| Zelta sirds | |
| Ziemassvētku dziesma | |
| Dzelzsgriezējs | |
| Dzimtā valoda | |
| Grēks paliek | |
| Karogi | |
| Ostmalas kvartālā | |
| Straume | |
| Tev būs jāmaksā | |
| Trīs sievietes | |