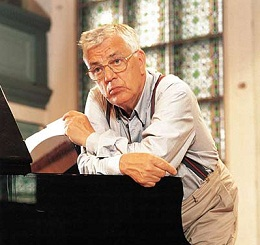 description
Maestro Raimonds Pauls is the most distinguished author of Latvian popular music, he is also the most popular composer not only in Latvia, but also far beyond its borders. Thanks to unique flair of melody his music has been performed in countless countries in the most prestigious concert halls. Maestro has managed to create contemporary, attractive and at the same time democratic music by bringing together arising tendencies and the intonations of Latvian folk music, jazz, blues, rock'n roll, French chanson and German schlager and the intonations and elements of national popular
At the end of the seventies the Central Television in Moscow demonstrates a great interest in the works of Raimonds Pauls. Composer has opportunity to perform in front of an audience of tens of millions and to cooperate with excellent Russian poets. Songs of Raimonds Pauls in Russian language performs such stars of popular music as Alla Pugachova, Valery Leontiev, Jak Joala, Roza Rimbaeva, Nikolay Gnatyuk and others.
Intensive load of creative activity forbids to perform regulary or to manage particular creative group. From now on Pauls prefers to compose and to produce his works with different musical staff and groups. His songs and compositions are produced by an ensemble from Liepaja – Credo, Bauskas Dālderi, Inversija, a group from the Riga Polytechnic Institute with leading singer Olga Pirāgs, and together with Harijs Bašs, piano player from Inversija, Pauls produces a ragtime programme. Maestro cooperates with singing actors Edgars Liepiņš, Imants Skrastiņš, Rolands Zagorskis, Jānis Paukštello, actor ensemble Mūžīgais Unisons, singers Mirdza Zīvere, Žoržs Siksna, Ingus Pētersons, composes several soloprogrammes for Aija Kukule, also composes using not only works of classical poets (Rainis, Aspazija, Plūdons, Austra Skujiņa), but also Leons Briedis and others.
The music of Raimonds Pauls is well know all over the world: concerts have been performed, albums and songs have been released in all countries of the Eastern Europe, also in countries of CIS, in Finland, USA, Canada, Japan, Israel etc. The most popular song is Dāvāja Māriņa (Māriņa gave) alias Miļļion alih roz (Million roses) that became very popular in Japan, Finland, all over Eastern Europe and song of Raimonds Pauls have been translated into Russian, Finnish, Japanese, Italian, German, English and other languages.