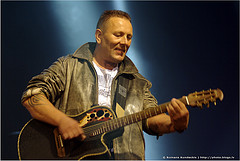 description
Latvian musician Guntis Veits born on the August 3rd, 1954, in Kuldīga.
Soloist of band "Credo" since 1979.
Guntis Veits joined in band "Liepājas brāļi" in 1987.
He participated as actor in open air musical "Robins Huds" in 2007 and also in lyrical comedy "Ar
būdu uz baznīcu" that was directed by Varis Vētra in 2008.
In 2009 he participated as actor in comedy "Vakariņas ar muļķi"by French script writer and producer Francis Veber, that was produced by Juris Rijnieks and creative association "Meistaru Teātris".